Frequently asked questions
General Questions
Where are you located?
---
We are located at 2051 Oak Mountain Drive in Pelham, Alabama. Our street is right off of Highway 31 behind Cahaba Tractor and L&S Small Engine Repair. Once you turn on our street, we are the last building on the right.
---
Do you stock windows or entry doors?
---
Due to the increasing number of sizes and design options available today, it is nearly impossible to stock all the options available in entry doors or windows. We can have things available from a number of suppliers that are located in Atlanta and surrounding areas fairly quickly. We also at times have things left over from jobs so be sure to check with us from time to time.
---
What type of products do you offer?
---
We are more than just a window and door company. We offer a wide variety of products from interior trim and mouldings, hardware, stair parts, common sash sizes and balances, chamberlain brand parts and openers, garage door parts and springs, pocket door hardware, door inserts, and number of other items. If we do not have it we can certainly tell you where you can get it.
---
---
Window
Do you install windows or entry doors?
---
No, we do not install windows or doors. The only items we service, repair, or install are residential garage door openers and garage doors. We can advise you the best way possible on finding the right person or company that can help with your new window or entry door installation.
---
---
Garage Door FAQ
Garage Door
My garage door will not close and the light keeps flashing?
---
Something we here and see a lot is a problem with opener eye beams. Eye beams are a safety precaution to make sure the garage door doesn't close on any person or thing that obstructs the beam. These eye beams can become loose, bumped, hit, or just go bad over time and prevent your opener to close. Here is a short tutorial to help you align your eye beams.
---
How do I program my remote?
---
Located on the back side of your Chamberlain brand opener there will be a learn button. The learn button will be green, red, purple, or yellow depending on the model of opener. You will push and release this learn button and a solid amber LED light will turn on next to it. Then push and release the button on the remote you would like programmed. The light bulb should flash indicating that it is programmed. Here is a quick video to help illustrate the process.
---
Why won't my keypad work?
---
Check the battery. The keypad numbers should light up once they are pushed. If they aren't lighting up the battery is dead and needs to be replaced with a 9v battery.
If the keypad is lighting up you will need to reprogram the keypad.
---
Can I program my car or vehicle to my garage door?
---
Yes, a vehicle can be programmed using the Homelink instruction video below. In some circumstances an additional product called a HomeLink Repeater may need to be purchased to function properly.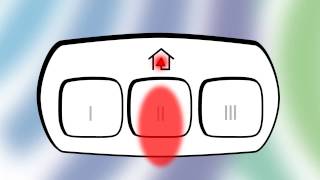 ---
Can I convert my Liftmaster unit to be MyQ capable?
---
Yes, you can! We have a MyQ kit availble for purchase. It includes all the neccessary components to convert existing units to MyQ capability.
---
---